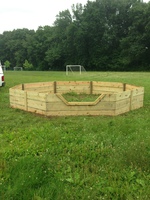 News
Please see below for the latest news!
It's Time to Close Your Splash Pad! Are you building a new playground next year? Call us for an on-site consultation.
Add more FUN to your playground with a Coach Cliff Gaga Ball Pit!
GaGa Ball Pits are the latest and greatest play event for your playground. GaGa Ball Pits are solid, durable and long lasting. It is a game for all ages and abilities. Call us today for quote!

Michigan Recreational Construction, Inc.
1091 Victory Drive
Howell, MI 48843
Certification




More about certifications
"Play is the highest form of research."
-- Albert Einstein