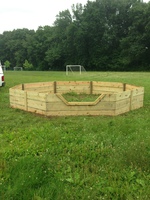 News
Please see below for the latest news!
We are scheduling for 2017!
Now is a great time to plan your projects for next year. Contact us today for quotes and availability!
Add more FUN to your playground with a Gaga Ball Pit!
Gaga is a fast paced, high energy game played in an octagon ball pit made of plastic or wood timbers. It's a fun group sport and great addition to school & park playgrounds. See our playground gallery for photos. Call us today for quote!

Michigan Recreational Construction, Inc.
1091 Victory Drive
Howell, MI 48843
Certification




More about certifications
"It is a happy talent to know how to play."
-- Ralph Waldo Emerson